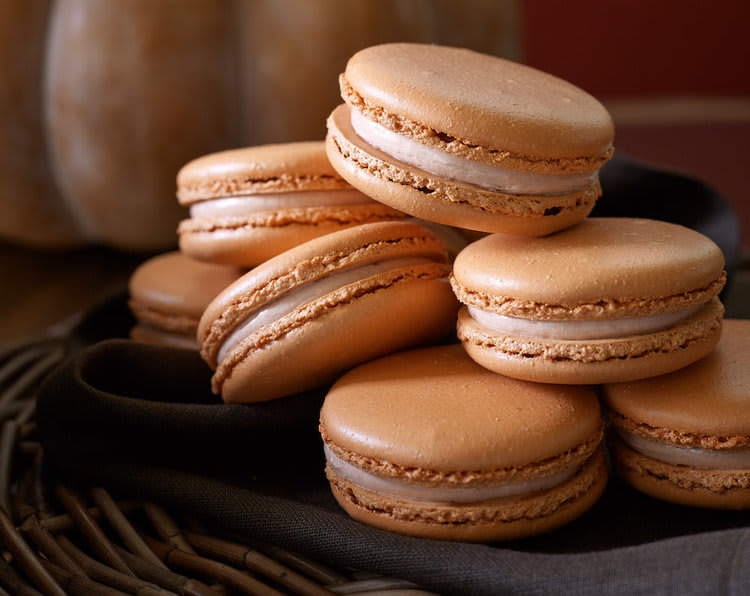 As we get closer to Halloween, which falls on Tuesday, October 31, fun-size candy bars will fly off the shelves faster than kids can plot their neighborhood trick-or-treating routes. But if you think pint-sized youngsters will be having all the fun, think again, for Los Angeles is serving up plenty of holiday specials crafted for a more mature audience. Whether your guilty pleasure is a doughy confection or a daring combo of liquor, the following round-up of sweet treats are sure to satisfy—as well as get you in the spirit of Halloween. No costumes necessary.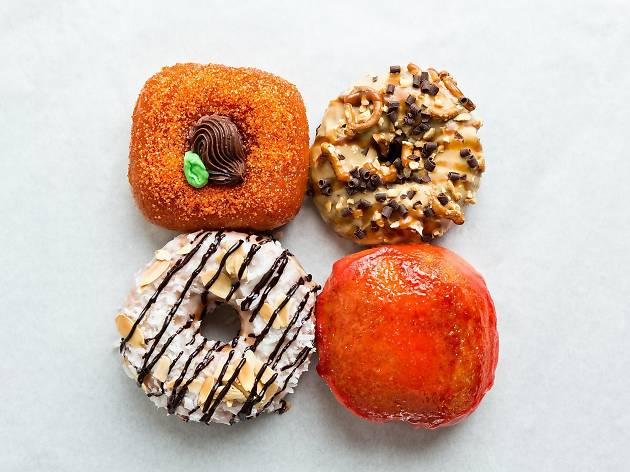 The Treat:
Specialty doughnuts like Candy Apple, Candy Bar, and Pumpkin Pie, the latter of which is filled with pumpkin pastry cream, covered with pumpkin-spice glaze and dusted with orange sugar, all topped with vanilla buttercream in the shape of a pumpkin stem and leaves.
American Tea Room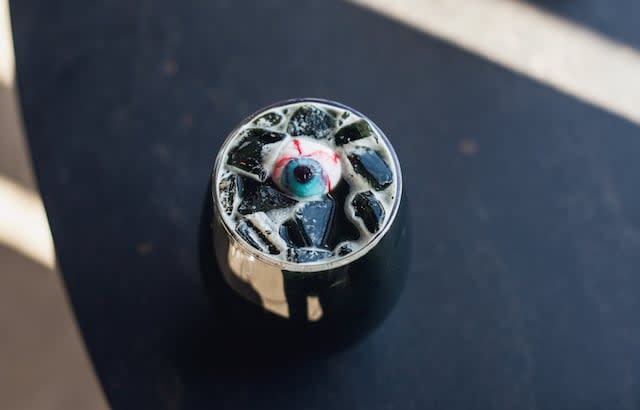 The Treat:
The shop's signature Green Tea Terere (a mixture of green and white tea and sweet matcha, layered with lime and orange juice) has transformed into the Scary Terere, a concoction made with activated charcoal and adorned by a floating, bloodshot gummy eyeball. Oh, and it's priced at $6.66.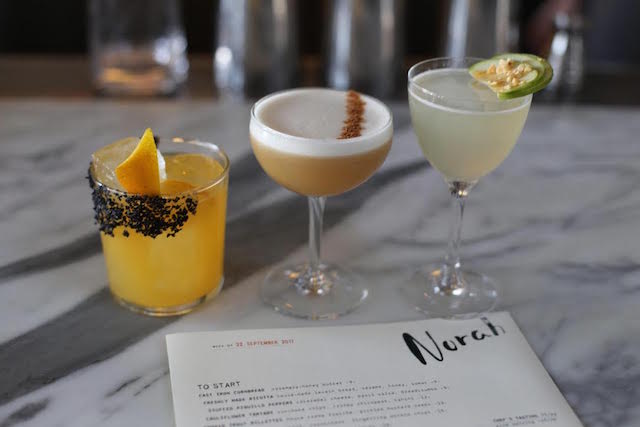 The Treat:
Feast your eyes on three Halloween seasonal cocktails from bar manager Andrew Harbour: The Halloween Margarita (a mix of tequila, orange, lemon & basil), Pumpkin Spice Sour (bourbon, lemon, pumpkin spice, & egg whites), and Caramel Apple Martini (vodka, apple, caramel & peanuts).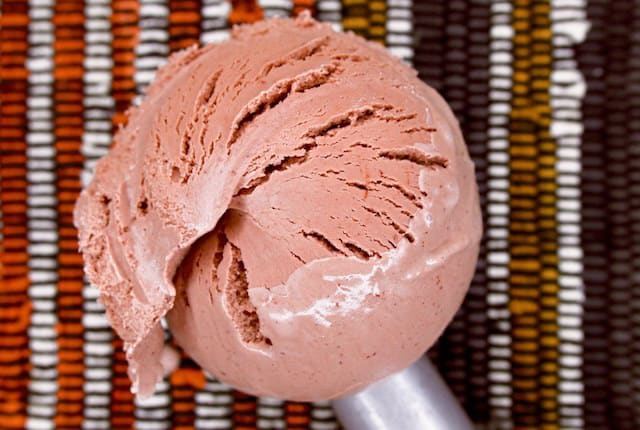 The Treat:
A "spooktacular" line of ice cream flavors (available at all 5 of their Los Angeles locations). Consider a scoop of Creepy Critters (a matcha ice cream including orange, dark-chocolate-covered crickets and coconut-toffee-brittle mealworms), Dracula's Blood Pudding (a blend of seasonal spices spun into real blood pudding; pictured), the Great Candycopia (salted butterscotch ice cream studded with house-made snickers, whoppers, heath bars and peanut butter cups), and Freckle & Hyde Potion (a two-toned blend of melon-and-coconut sorbet spiked with lime juice, salt and coconut ash, melded with a cranberry sorbet that's freckled with white chocolate, pop-rocks and dark chocolate).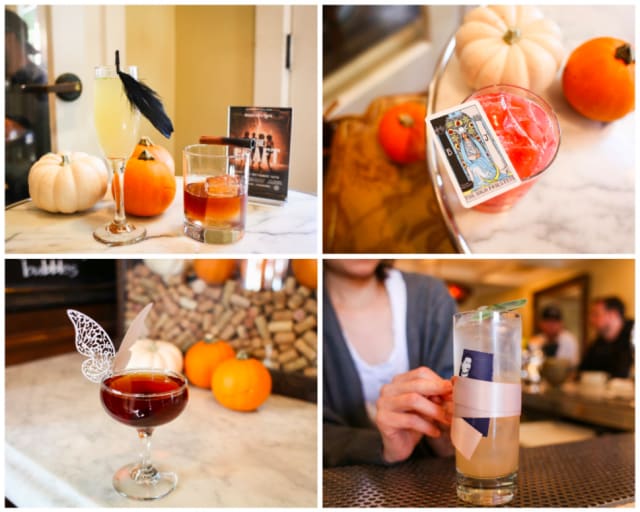 The Treat:
Sip on festive cocktails like Stiff as a Board (Bacardi 8, sweet potato, cinnamon and charred cinnamon) and the Bitches of Eastwick (El Silencio Espadin, blood orange, lime, agave and a teeny tiny tarot card).
Extra Special Treat:
On Thursday, October 26, stop by for a "Monster Mash" themed installation of their monthly guest bartender series, where classic cocktails get paired up with classic monsters.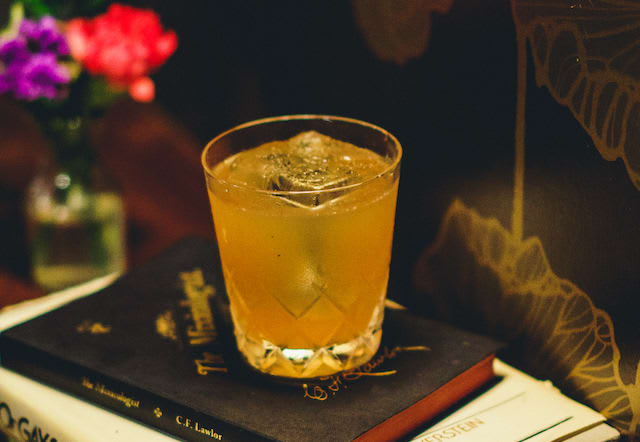 The Treat:
This Koreatown bar (hidden inside the Normandie Hotel's Normandie Club) will be serving a Halloween Candy cocktail consisting of bourbon, Reese's Peanut Butter Cup, cacao, and black salt.
For Your Halloween Party Host
Bouchon Bakery
in Beverly Hills is offering two Halloween-themed specials, a pumpkin macaron and an oversized pumpkin fondant cupcake, while
Winston Pies
will be be adding "Creepy Cowgirl," "Key Slime," "Scary Cherry," and "Pumpkin Patch" to their array of baked goods (in stock from October 27 to October 31).